I've Buried More Than 50 Men and Many Women – Guest Post by Robert Owens
I've buried more than 50 men and many women.
Most did not expect or want to die the way they did. Most were unhealthy. They hadn't invested an hour a day in their health. People work hard to make money but by 40 or 50 are giving more and more of it to Therapists, Doctors, and Pharmacies.  But it can change.
Here are 7 Tips for Lifelong Health and Fitness.
1. Find your "why"
Most people don't have a strong enough "why" or a vision that holds them into a long-term workout plan or routine. Workouts are optional for them.
I encourage my friends and listeners: Be wise. Invest in yourself for life. If you will take one hour a day out of your 24 hours for strength conditioning and cardio exercise, you will sleep better, eat better, feel better, be healthier and sustain your sex life longer (if that's something you care about).
2. Overall Physical Conditioning
Get in an exercise routine that challenges all of your muscles, rather than just a few. The ones we stretch and exercise will respond, so stretch and exercise all of them during a week. I was only in shape for certain movements. I became physically, mentally and emotionally stronger than I ever thought I could be.
Now I am in a group of over-60-year-olds that encourages each other and have more confidence than we ever thought possible.
3. Strength Work
I noticed that older people get weaker. I wondered if such weakness was inevitable or if I could challenge that observation. So I sought out and read about seniors who became stronger. I am not talking about bodybuilder types but just normal exercise people who became stronger. They inspired me to not grow weaker any sooner than I naturally have to.
I concluded (1) Your muscles will respond if you feed them exercise and good food; (2) I am only "old" if I act old.
3. Balance
As we become older, we lose our balance little bit by little bit. I was so embarrassed one day at 60 to get on a trampoline and try to jump around on it. I remembered what it was like as a kid to do flips and other fun moves on one. But this time I could barely stand on it and keep my balance. I was crushed. What had happened to me?
So I began to incorporate balance exercises into my weekly workout routine to exercise my inner ear. Wonderfully, little by little, my balance came back. I am more confident now in my daily movements.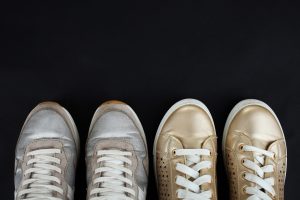 4. Pain
I have daily aches and pains just like anybody else, exercise or not. But I listen to my body a lot more now. I know the difference between old-age stuff and pain that could intensify and wreck me for a while.
Often on a run, which is more of a jog, I may have an unusual knee or foot pain. Feeling it, I will shut down my run and walk and stretch for a while, then try running again. The good news is that almost all the time, the pain goes away. I am so glad to have learned to not just press through the pain because of my ego. I have learned the hard way to listen to my body.
Pain does not necessarily have to be bad. And there are times when you need to just press through. But you also need to get to know your body and understand your specific pains.
5. Diet
I found that the healthier and more fit I became, the more my body craved healthy food. Left to myself, I love all junk foods. But as I worked out, my body began craving foods that would help me. And often my body rejected food that wouldn't help me. It was a weird mental transition.
I also found that my body did not need big portions of food, as I thought it would.  Food can make me sluggish. Oddly, food is for fuel now more than comfort. (I do occasionally need to "comfort" myself, and I really try to enjoy those moments!) 
6. "Feelings"
Accountability is huge! There are many days where I just don't "feel it." But after I am in the door and with my health-minded athletic friends, I feel so much better for not having submitted to those "feelings."
By and large, I have taken the question "How do you feel" out of my life. Why? "Feelings" (e.g. "I just don't feel like it today") lie to us and get us off track. I don't want to give those "feelings" the opportunity. You either live by your convictions or your feelings. 
So, as Nike famously said: Just do it! Then you will feel great!
7. Show me your Friends
 We so enjoy their excitement. Show me your daily friends and I will show you YOU! Drinkers hang out with drinkers. Excuse-minded people hang out with excuse-accepting people. Unhealthy people hang out with and feel comfortable with unhealthy people. Liars hang out with liars.
Negative people gravitate toward negative people. And excited, healthy people spend time with healthy, positive, still-dreaming-and-accomplishing people. We draw to ourselves who we are.
Our friends are younger, active, excited-about-their-next-adventure-type people.
In closing, we all have hourly and daily choices. It's a possibility that at some point,  maybe we need to stop playing the victim. Face our excuses. Grow up emotionally. Get in shape and get a life. Contrary to popular belief, life can be really fun as we grow older! We are the only ones who control that. Life is what we make it…still.
Robert Hamilton Owens is a man of many hats. He's been and done a lot – mountain climbing, radio and TV personality, keynote speaker, minister, Ironman, philanthropist, triathlete, Special Ops Pararescueman, and father of five – to name a few. But of all the pursuits he's undertaken, there's one title that best describes this literal force of nature: Robert is The Fittest 66-Year-Old in the World. Period. Learn more about him at https://www.roberthamiltonowens.com
I had the pleasure of meeting Robert Owens at a recent conference for writers in New York City. We bumped into each other on a bad day for me; I was tired from my journey, hadn't slept well at all and in considerable pain from a pinched nerve in my back. I was more than a little daunted by my challenges both in NYC and at home. With a few gentle and very kind words, Robert helped me change my attitude and turn my day around. I have no doubt that he inspires all that he encounters.
While you are here, be sure to take a look around the website at the many other blog posts with tips and strategies for all of us on the widowed path. If you enjoy them, be sure to subscribe to receive new posts directly into your email mailbox. It's free to sign up and we guard your information as if it were our own, never selling or sharing your information.
Sign up for free here https://widowlution.com/subscribe/  and never miss a new post. We even send you a free gift when you subscribe!  You can also find inspiration, prayers, and quotes about grief at Pinterest at https://www.pinterest.com/mhoct6462/boards/