Store
Here at the Widowlution, we believe in using a variety of tools to heal our hurting hearts. Whether it's a book that shares the story of someone else who has had a similar loss, a comforting pillow that makes sleep easier or a tool that makes household jobs easier to work by ourselves we feature some of the ones we like and use in our store. From kitchen gear to fashion, these are some of our favorite things, and they're available to purchase right here. Be sure to scroll down and be sure to see all our recommended products: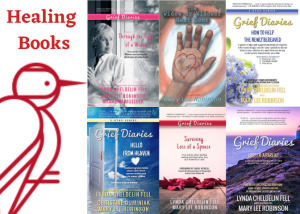 All of Mary Lee's books are available at Amazon and Barnes & Noble and The Grief Toolbox.
All books are available at wholesale pricing in quantities of 10 or more. Message Mary Lee for more information.
Find all of Mary Lee's books here »
Get inspired with this 60 prayer card collection of Bible scriptures especially for widows. Widows are very important to God, as demonstrated by the many times he speaks about us in the Bible. Gathered for you on beautiful woodland backgrounds, this set of 60 verses is downloadable and printable for you and come with easy-to-follow instructions on how to download. They come 4 to a page with cutting guides if you wish to cut them into individual verses.  We suggest using cardstock and you may even wish to laminate them for use as meditation verses, bookmarks, journaling prompts, and Bible study aids. They also make kind and caring gifts to new widows of faith.  Curated by Mary Lee for you, these speak to widows and provide Biblical comfort and peace.
Purchase the set of these scripture cards here https://www.etsy.com/shop/WidowlutionByMaryLee
Stay inspired and grounded with the many Widowlution logo products.
From bookmarks, cozies, tote bags, cosmetic bags, key rings and more,  reminders of "can't never did anything"
Find them here:
Widowlution Logo Products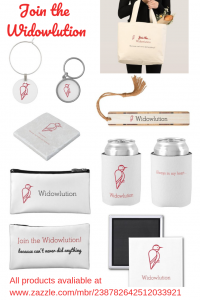 Find additional logo products here:
https://www.zazzle.com/collections/join_the_widowlution-119852176412757267?rf=238782642512033921
Sleep better with this comforting body pillow, available in several colors:
Click here for more info & to purchase at Amazon: https://amzn.to/2Gi6nvf
Tired of too many leftovers? Small crockpots that also have temperature gauges are hard to find, but we found one!
Click here for more info & to purchase at Amazon: https://amzn.to/2Sk8QM9
No spotter around? Still need to get up high? This sturdy step ladder is the answer. I just love mine!
Click here for more info & to purchase at Amazon: https://amzn.to/2GkLlMH