Store
Here at the Widowlution, we believe in using a variety of tools to heal our hurting hearts. Whether it's a book that shares the story of someone else who has had a similar loss, a comforting pillow that makes sleep easier or a tool that makes household jobs easier to work by ourselves we feature some of the ones we like and use in our store. From kitchen gear to fashion, these are some of our favorite things, and they're available to purchase right here. Be sure to scroll down and be sure to see all our recommended products:
All of Mary Lee's books are available at Amazon and Barnes & Noble and The Grief Toolbox.
All books are available at wholesale pricing in quantities of 10 or more. Message Mary Lee for more information.
Find all of Mary Lee's books here »
Stay inspired and grounded with the many Widowlution logo products.
From bookmarks, cozies, tote bags, cosmetic bags, key rings and more,  reminders of "can't never did anything"
Find them here:
Widowlution Logo Products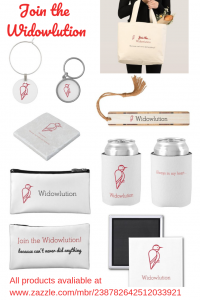 Find additional logo products here:
https://www.zazzle.com/collections/join_the_widowlution-119852176412757267?rf=238782642512033921