Healing Strategies, Things that Help
Want to Take Your Grief Healing Up to a New Level?
Would You Like to Coach with Mary Lee?
Mary Lee Robinson is very happy to be able to offer you new and even better strategies to promote grief healing and specific techniques to redesign, rebuild and restart your life. As a trained professional grief coach, she has created courses just for you. Conducted in the comfort of your own home via online lessons delivered directly to your email inbox, telephone or Skype, it's like grief group coaching you can do in your pajamas.  Whether you chose the full 8-week online course that includes one-on-one coaching via phone or Skype chat or a single email question to Mary Lee, these new tools will get your feet moving forward and on to a fuller more satisfying life. Available via Life Coach Hub, you can learn more here:

Want to redesign, rebuild and restart your life without one-on-one coaching?  You can do that too, and it's so affordable that way!  Mary Lee has built a DIY self-guided online course delivered directly to your email inbox, a new module every week for 8 weeks. Learn how easy, small and surprising changes to your surroundings can make a huge difference in lifting your spirits. Along with some conventional grief healing tools, Mary Lee has added fashion, home dec and social life tips that will get your grief moving forward. Chip and Joanna won't show you these ideas! Go here for more information and to register:
Would You Like to Read Mary Lee's Books?
Mary Lee has co-authored several grief books to help you too. Each of the books in the award-winning, critically important Grief Diaries series are written by a collection of grief experts…the grievers themselves. Every book is formatted in an easy to read question & answer format. The questions are answered by a group of writers, all of whom have lost a close loved one. Hearing from 15 to 25 people allows for a broad range of perspectives on each grief question. Think of these books as "group therapy that fits in your purse". More of the Grief Diaries series books written about other losses, loss of a parent, loss of health and others, are available here in the store on this website  Click Here and at  The Grief Toolbox Click Here.  They are also available on Amazon and Barnes & Noble, and in stores by request. Wholesale pricing is available for purchases of 10 or more books.

What others have to say about the Grief Diaries and Mary Lee's books:
Regarding the Grief Diaries Book series, Dr. Bernice A King, daughter of Dr. Martin Luther King Jr. had this to say
"I want to say…that what you are doing is so critically important."
From Candace Lightner, Founder of MADD, Mothers Against Drunk Driving
"Inspirational . . . Grief Diaries is the result of heartfelt testimonials from a dedicated and loving group of people. By sharing their stories, the reader will find inspiration and a renewed sense of comfort as they move through their own journey." 
About Mary Lee's first book, The Widow or Widower Next Door:
Rev. Roland H. Johnson III, retired Baptist minister with a B.A. in Religion & Theology, an M.A. in Sociology from Texas A&M and professor of courses in marriage and family had this to say
"Mary Lee Robinson has given the world an excellent resource to view the experience and consequences of the loss of a spouse. She unabashedly tackles a social stigma, grief, in our disconnected postmodern society. The personal revelations of the widows and widowers open more avenues of thought than many academic works on the subject of death and dying. In my decades of ministry and teaching college sociology, I did not have a text that could convey with clarity the personal process of grief. This book accomplishes that task. Easy to read, yet thought-provoking, this book is a 'must-read' for clergy, counselors, academicians, doctors, nurses and anyone who loves another in marriage, family, and life."
Where to buy Grief Diaries and Mary Lee's books:
Right here in Mary Lee's store on this website Click Here
The Grief Toolbox – Click Here
Barnes & Noble Online (in-store by request)
Encore Florists & Gifts, Conway, SC – Click Here
Spiritquest, Ocean Isle, NC. – Click Here
Grief Diaries: Through the Eyes of a Widow
More stories from the perspective of the windows that are all around us, and their unique outlooks after the life-altering experience of losing a spouse.
"Widows in modern America find little support to recover and adapt to a life they never planned. Friends, family, colleagues, and co-workers have little idea about how to help, leaving widows in a vulnerable spot when they need support most. Through the Eyes of a Widow invited women from all backgrounds to share their own personal insight into the unspoken challenges of losing a husband and the emotional, mental and social shifts they're forced to reckon with in the aftermath. With poignant narration, each describes the truths of her loss, and the comfort and hope she finds along the way."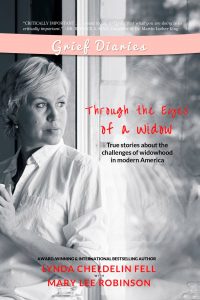 Grief Diaries; Loss of a Spouse
When one loses a spouse, whether young or old, the emotional aftermath can take our breath away. The journey is sometimes a tumultuous one that challenges our fears, friendships, and even our future. While each loss is as unique as one's own fingerprint and grief tools aren't one-size-fits-all, it's important to know you are not alone.
Part of the 5-star Grief Diaries book series, Loss of a spouse is like your own portable support group, open 24/7. It offers an intimate collection of stories by people around the world who have all walked in your shoes. Consider this book one of your bereavement tools, and pull it out whenever you need. For no matter the age, the circumstance, or the number of days since your spouse passed, the stories contained within this book offer company, comfort and hope, and a reminder that none of us walk this journey alone.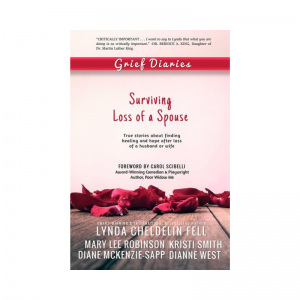 Grief Diaries: How to Help the Newly Bereaved
How to Help the Newly Bereaved is a powerful grief etiquette guide that offers helpful suggestions, tips, and insight by 22 different grief educators and advocates who share what was most and least helpful when they lost someone they loved.
A comprehensive guide to everything you need to know to support someone facing loss, How to Help the Newly Bereaved offers straight talk to increase your confidence and comfort around the bereaved, and arm you with a toolbox of forget-me-nots and insight as you support someone during the most difficult time in their life.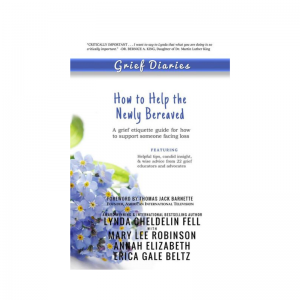 Grief Diaries: Hello from Heaven
Grief Diaries creator Lynda Cheldelin Fell dreamed of her daughter's death two years before it happened. When the nightmare came true in 2009, she watched her deceased grandmother guide her daughter safely to heaven. Despite the shock of her tragic loss, Lynda's experience brought tremendous comfort to her broken heart. But her incident is far from unique. Bonnie's deceased father smiled and winked at her before disappearing behind a building. Mary saw her deceased mother's eyes in the face of a stranger. The morning after Sharon released a single balloon in memory of her former fiancé, she woke to a voice in her ear saying, "I got my balloon." Mary Lee's husband sends her woodpeckers and pink daisies bloom in ice storms around Christmas, and the aroma of tobacco wafts in the air now and then.
Part of the Grief Diaries series exploring life experiences, Grief Diaries: Hello from Heaven features true stories about the natural phenomena known as after-death communication. Narrated by writers from all walks of life, each story offers a fascinating glimpse into the possibility that there is more to life . . . and death . . . than meets the eye.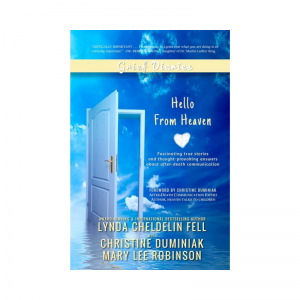 And the book that started them all…
The Widow or Widower Next Door
Most everyone knows that losing a mate to death is a painful experience. Those who have not had such a loss of someone very close, seldom realize the depth and breadth of that pain. As a result, in an effort to make the bereaved (or themselves) feel better, and to distance themselves from the event they say and do some outrageous and unthinking things. Others, possessing very tender hearts, say and do some of the kindest things imaginable. Most all of us who participated in writing this book found ourselves surprised by other people's reactions to our loss.
The Widow or Widower Next Door is a collection of stories that reveal the unexpected reactions that occur. We prepare for school by attending Pre-K. We prepare to get our Driver's License by taking driving lessons. We got to pre-marital counseling before we wed. Nothing, but nothing prepares us for the loss of a spouse. We hope this book will get people thinking and preparing, and we hope that it will help them learn how to better help a friend or a neighbor with such a loss.
Readers have asked why is there a logo of a hand with a heart in it as the cover of the book. The answer lies in The Valentine's Story, excerpted from the book: "The doctors told me that Pat was not going to be with me much longer. I took a red marker and a ballpoint pen with me to the hospital on Valentine's Day. I took his hand and drew a heart on his palm. I wrote "my heart" inside it and said 'I love you; you hold my heart in your hand'. The mortician left it in place. Pat still holds my heart in his hand and my heart is warm because of it.