Widowlution
So what the heck is the Widowlution?
As I see it, the Widowlution is a new way of looking at widowhood. It's a movement to alter the way people look at widows. Our society has grown a tendency to button-hole widows into some very narrow expectations. We are seen as old, suddenly wealthy, clingy, perpetual downers, home-wrecking husband-stealers, and generally unpleasant to be around. One new indicator of the skewed expectations is the compulsion of well-meaning friends and family to urge us to take off our wedding rings. Really? Why is that anyone else's business? We are also, and heart-breakingly, sometimes shunned, without being told why. We think we are the only ones. We aren't. Not by a long shot.
We may sometimes be some of these things, most of the time we are none of them. Once, we were revered and respected members of the community (yes, widows really were!). We are the original protected class, in fact. God so loves widows that there are 77 scriptures that apply specifically to us. Psalm 68:5 is but one: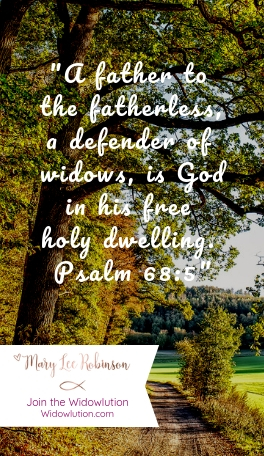 We become "The Lunch Ladies". Once we were welcomed and invited as dinner guests, now we are only sought after for lunch, if that. My impression about that was validated when talking to two friends who are widows. One has been widowed twice, the other three times. both of them told me that their social lives changed dramatically once they no longer had a loving husband. I've heard it from countless others too. Wow! We need to fix this…
The world has changed, and seldom do we receive the considerations we need from our communities. So what do we do? Here's one widow's answer. I like and agree with her outlook.  Breaking the "Rules" on How to Be a Widow.
So what do we do?
We break free of the stereotypes and rebel. We define ourselves for ourselves. We learn to survive, and more…we thrive! We and only we (with our faith as a guide) define what kind of widows we want to be. We toss aside the expectations the world puts upon us and find ways to cope and conquer our challenges on our own terms. We redesign and reinvent ourselves to be our best selves. Find more about that at https://widowlution.com/wp-admin/post.php?post=142&action=edit regarding lifting your spirits while lifting your appearance and https://widowlution.com/wp-admin/post.php?post=133&action=edit and learn how to redecorate for grief healing.
Shortly after my husband died, red-headed woodpeckers began to appear in my yard, in fact, they were often with me wherever I was, even on vacation. Woodpeckers were his favorite bird. Curious, I researched the symbolism attached to woodpeckers and found that they represent:
Opportunity
Initiation and creativity
Progress
Protection
Determination and persistence
Communication
I think that woodpeckers are a splendid symbol for the Widowlution, don't you? Woodpeckers keep at it. Woodpeckers don't give up. Woodpeckers triumph! Won't you join me, as we become the women we are meant to be…living fully, purposefully, triumphantly and joyfully again?
While you are here, be sure to take a look around the website at the many other blog posts with tips and strategies for all of us on the widowed path. If you enjoy them, be sure to subscribe to receive new posts directly into your email mailbox. It's free to sign up and we guard your information as if it were our own, never selling or sharing your information.
Sign up for free here https://widowlution.com/subscribe/  and never miss a new weekly post. You'll get a confirmation letter for everybody's protection, just to be sure it's you. If you don't see that email, be sure to check your SPAM folder!
We even send you a free gift when you subscribe!  You can also find inspiration, prayers, and quotes about grief at Pinterest at https://www.pinterest.com/mhoct6462/boards/