Cooking While Widowed; or Making It as Simple as Possible
This post contains affiliate links, which means that if you click on one of the product links, I may receive a small commission at no extra cost to you. I never recommend products I have not used personally and that I am not proud to endorse.
You know how much I hate cooking now!  Cooking for one (lil' old me) isn't nearly as much fun as it was when I was cooking for an appreciative husband. Eating is required; elaborate cooking no longer is. I've dogged a search for the many ways to make this as uncomplicated as possible, and still stay reasonably healthy and tasty.  From Mason jar meals to slow cooker freezer meals, Nutribullet smoothies and single-serving portions, I'm trying them all!!!
As a resident of hurricane territory, I have long used some ideas from the Preppers. I imagine those who live in rural areas do too. I wanted to borrow an idea from Preppers and experiment with dehydrated foods stored in jars. I think it's a very practical idea for those of us living alone.
I found a neat cookbook to get started with. Meals in a Jar; Quick and Easy, Just-Add-Water, Homemade Recipes looked promising. Find it here: #ad http://amzn.to/2buQtvi for about $16.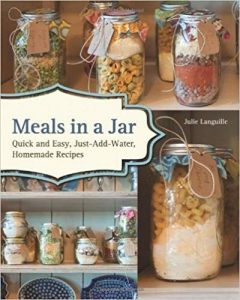 Next, I found a source for dehydrated foods at Harmony House via Amazon. Their sampler pack, available here at  #ad http://amzn.to/2bgsZv7 for about $65, offered a really broad selection of 15 vegetables, "meats" and bases for the money.  Small packages of the many dried foods they offer were just perfect to give me the variety I was seeking for this trial.  Each of the small packages will contribute to 3 to 4 meals.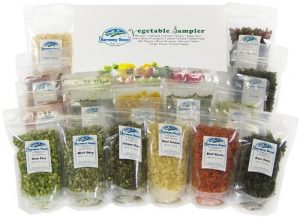 Jars were going to be a key part of this project. I started off with run-of-the-mill 8oz. Mason jars and found they were too big for my purpose. I wanted single servings and the dried soup mixes I wanted to assemble for big soup mugs turned into more than a large bowl worth; enough for two meals. That was one meal too many. I settled on the 5 oz. pretty Mason jars I found at   http://amzn.to/2bHwJ8y and while they are a little more expensive, I liked how pretty they are and the perfect size. 4 oz. was just a tad too small, these are just right, I thought. They also will get used over and over.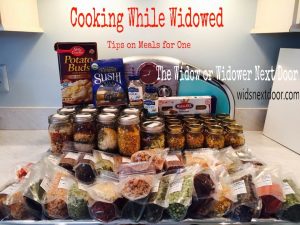 One of the easiest recipes was Chicken Rice Soup. I combined rice, chicken bouillon granules, dried celery, dried onion, dried carrot, "chickenish bits" (a dehydrated meat substitute from Harmony House), some thyme, part of a bay leaf and a couple of twists of a pepper mill.  Since the bouillon is a little salty, I didn't add any additional salt.  Honestly? I was plowing new ground here, making portions for one, so I eyeballed the proportions without a recipe.  It's hard to screw this up but go easy on the bouillon.
After about two afternoons of time to assemble, I now have about 48 meals at the cost of about $2.50 each, counting the cost of the jars. They will be stored on my garage pantry shelves and will last for 2 years or more.  I'm set for the winter (and probably longer) with meals I can just grab off the shelf, put in a mug, add water, microwave and consume.
The best part for me? Even better than the cost? I have no-hassle meals on hand that will keep me from going out for junk food or reaching for preservative-laden convenience foods.  Eating cheap, healthy and easy? Works for me!!!  And I still have PLENTY of dehydrated foods left to do this again. See those pictured in the foreground of the final photo.
While you are here, be sure to take a look around the website at the many other blog posts with tips and strategies for all of us on the widowed path. If you enjoy them, be sure to subscribe to receive new posts directly into your email mailbox. It's free to sign up and we guard your information as if it were our own, never selling or sharing your information.
Sign up for free here https://widowlution.com/subscribe/  and never miss a new post. We even send you a free gift when you subscribe!  You can also find inspiration, prayers, and quotes about grief at Pinterest at https://www.pinterest.com/mhoct6462/boards/