Meet Mary Lee
Hi, and welcome! I'm Mary Lee Robinson, and I am a lot of things, but among the most important is being a full-time caretaker of my Mom, who is 89 and pretty close to being an invalid. She also has dementia. Did I mention she's a joy? She is! I'm dog-Mom to my dearest companions, an aging Dachshund and a young Rottweiler…pretty disparate crew, don't you think?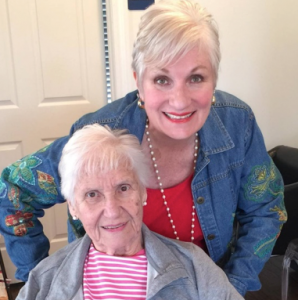 One more thing, I was widowed suddenly in early 2013. Mom, as you might expect, is a widow too. Both my Grandmothers were widowed twice. My Grandfather was widowed. My late husband was widowed when I met him. A cousin I'm very close to is widowed. Widowhood is a subject that is very familiar to me.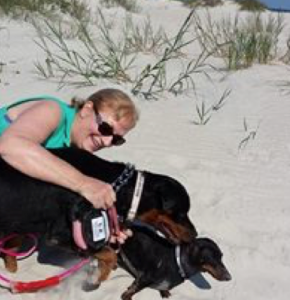 Originally from Baltimore, I wanted to live in the Carolinas since I was 12 years old. I finally made it here 11 months before my husband died. Our relocation was one of his enduring gifts to me. I'm also a Christian and view all of my circumstances as blessings, some disguised, but blessings all the same. My Christian faith is strong and has been at the core of my healing.
I'm a Certified Grief Coach, an author, blogger and in college, I majored in interior & fashion design and my work was in both of those disciplines for many years as I managed construction renovations inside the high rise office buildings and a few computer rooms in downtown Baltimore, and I use those tools in my strategies for healing. The very successful "Set an Extra Plate" initiative to help others learn how to help us was also my creation, an exercise in true Christian hospitality.
So what lead me to become a blogger? A passion to help other widows with traditional tools and some unusual ones, as well. Fashion for widows? Sure! Interior Design for widows? Yes indeedy!
A grief counselor will help you get on your feet. A grief coach can help you get those feet moving forward, and to do that, we'll use anything that works.
You probably wonder what you can expect to find here, right? Here on these pages, we are going to talk about all kinds of things, from meditations & inspirations to fashion as we refine ourselves and home dec as we make our homes healing places that are our completely our own, including room for some memories. You'll discover practical and attitudinal approaches to adapting to this new unrequested life.
We'll discuss meeting new friends and how to go about that, good books to read, and all kinds of instruments for building a life that is enjoyable and well worth living. Some posts will include suggested products that I personally use find helpful, and want to share with you. Most of the material found here is original, but no apologies offered for ideas that are curated, with attribution, of course.
My Pinterest boards, especially, feature lots of curated ideas and support the strategies for healing that I write about here on the Widowlution. You can find those at https://www.pinterest.com/mhoct6462.
Let me be your guide and share with you how to use all of these to become the widow your husband would be proud of…still.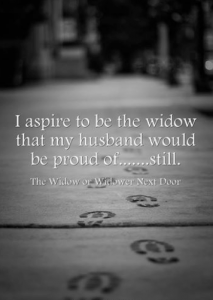 I encourage you to subscribe to my blog by email so that you never miss a new post. As my thank you for subscribing, I'm delighted to email you a brief article about 5 tips on staying safe and secure in your home, as my free gift. Additionally, you will receive special offers and tips available only to subscribers.
Just to make it easy to stay connected, I invite you to follow me on Pinterest, Twitter, Instagram and MeWe to see what's going on daily in the Widowlution. I expect there'll be some lively conversations there!


P.S. A great big thank you to my local photographer, M.M. Anderson. She managed to make me look far more fabulous in my red raincoat than I actually am. Some of her landscape & nature scenes are featured as quote backgrounds on this site. You can find more of her work at https://mm-anderson.pixels.com/