Set an Extra Plate can help grievers heal at the holidays
Set an Extra Plate can help grievers heal at the holidays …How? and Why? I'm always puzzled at why families are so insular on holidays, choosing to mingle only with one another. That's not the tradition that I grew up with. My folks gathered up widows and widowers, singles and divorced, all kinds of people who found themselves alone on holidays. They "set an extra plate". Because they did, I have wonderful happy memories of those gatherings. We had doctors, lawyers, and Indian Chiefs….policemen, teachers, church members and co-workers at our holiday (and non-holiday) table. There was even a shepherd! Yup, we were blessed with the friendship of fella who was a Scottish shepherd. One of the doctors was an Egyptian intern at the hospital where Mom worked. Some other close friendships were formed that way as well. I talk about it with Jack Murphy here on Rivertalk HGTV:
My husband and I continued that tradition, enveloping neighbors and elderly singles for dinners and parties. Our reward was hearing some fascinating life stories and witnessing broad smiles and sharing authentic laughter. I have some really warm memories of those gatherings. I was astonished and wounded when no one did that for me. Truly,  I really believed it was common practice. Why wouldn't it be? It's not a lot of trouble to include one more. It even spurred the title for my first book, The Widow or Widower Next Door, found here: https://shop.thegrieftoolbox.com/category/store/mary-lee-robinson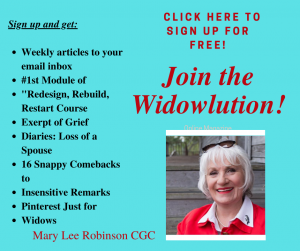 Look at it from another point of view
Solos of all kinds, and especially widows, have a tough time at mealtimes. The holidays are especially difficult. We get shunned, and no, I don't think that's to harsh a word. The New York Times ran an article about it recently…"I have been demoted to lunch," Laurie Burrows Grad, 75, the author of "The Joke's Over, You Can Come Back Now," wrote about adjusting to life without her husband. Before, she said, her friends would have had them over for dinner, a couple among couples." Read it in it's entirety here: https://widowlution.com/kl
One neighbor, in a misguided effort to be kind, brought me her holiday meal leftovers. Seriously???  I had food, I needed companionship.  An invitation to her holiday table would have been much more welcome. In an ironic twist, that same woman was widowed herself several years later. She's not adjusting well at all, and I never wanted her to know how it felt, but she probably does.
It's the Golden Rule!
Now, when I bring up that idea to families?  I sometimes hear that people are afraid that their families may not behave well for the occasion. That may be why my neighbor didn't include me at their table.  They don't want to risk it. Are they kidding??  Widows and widowers, singles of all kinds come from imperfect families too. Not much will surprise us. Odds are that families behave better with a guest in their midst. I swear upon my mother's china, my best holiday memories were the ones where we had guests. And doesn't that make for a more enjoyable holiday for everybody?? So go ahead! Set an Extra Plate can help grievers heal at the holidays!
Step out of your routine, take a risk, include some guests, surround some lonely folks with love. Set an Extra Plate. Especially if you are on you own yourself. You'll be so glad you did!
While you are here, be sure to take a look around the website at the many other blog posts with tips and strategies for all of us on the widowed path. If you enjoy them, be sure to subscribe to receive new posts directly into your email mailbox. It's free to sign up and we guard your information as if it were our own, never selling or sharing your information.
Sign up for free here https://widowlution.com/subscribe/  and never miss a new post. We even send you a free gift when you subscribe!  You can also find inspiration, prayers, and quotes about grief at Pinterest at https://www.pinterest.com/mhoct6462/boards/  Interested in grief coaching? We can do that too!  I offer both online self-guided grief healing courses that are DIY as well as one-on-one coaching via Skype, phone or email. Find more information about that here: https://the-widow-or-widower-next-door.lifecoachhub.com/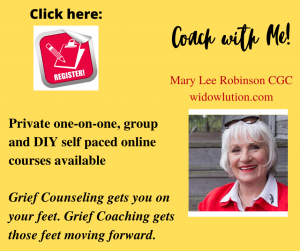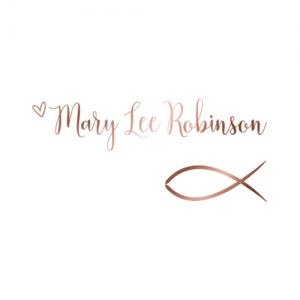 Disclaimer:  This blog post may contain affiliate links. I research all affiliates and am careful to select only those that I believe will serve my readers well, and I often have personal experience with them. I may earn a small commission from them to keep the Widowlution Online Magazine free to all subscribers if you use these links. You will not be charged extra, and you'll keep the bills paid so I can keep writing. It's a win for everyone, really. For my full affiliate policy, refer to the "Meet Mary Lee" page on this website.
© 2019 Widowlution, All rights reserved.