Set An Extra Plate
I'm always puzzled at why families are so insular on holidays, choosing to mingle only with one another. That's not the tradition that I grew up with. My folks gathered up widows and widowers, singles and divorced, all kinds of people who found themselves alone on holidays. Because they did, I have wonderful happy memories of those gatherings. We had doctors, lawyers, and Indian Chiefs….policemen, teachers, church members and co-workers at our holiday (and non-holiday) table. We even had a shepherd! Yup, we were blessed with the friendship of fella who was a Scottish shepherd. One of the doctors was an Egyptian intern at the hospital where Mom worked. Some other close friendships were formed that way.
My husband and I continued that tradition, enveloping neighbors and elderly singles for dinners and parties. Our reward was hearing some fascinating life stories and witnessing broad smiles and sharing authentic laughter. I have some really warm memories of those gatherings. I was astonished and wounded when no one did that for me. I really believed it was common practice. Why wouldn't it be? It's not a lot of trouble to include one more. It even spurred the title for my first book, The Widow or Widower Next Door, found here: https://shop.thegrieftoolbox.com/category/store/mary-lee-robinson
Now, when I bring up that idea?  I sometimes hear that people are afraid that their families may not behave well for the occasion.  They don't want to risk it. Are they kidding??  Widows and widowers, singles of all kinds come from imperfect families too. Not much will surprise us. Odds are that families behave better with a guest in their midst. And doesn't that make for a more enjoyable holiday for everybody??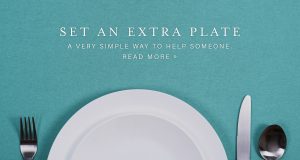 Go ahead, take a risk, include some guests, surround some lonely folks with love. Set an Extra Plate. Especially if you are on you own yourself. You'll be so glad you did!