Staying Stylish in Widowhood, and Why it's Important
Several years back…OK, maybe a decade or two back, Tim Gunn of Project Runway developed the concept of a "sweatsuit alternative". As the chairman of the famed New York Parson's School of Fashion Design, he was bothered how so many women had begun dressing very casually…and unbecomingly. My humble opinion is that we need to keep staying stylish in widowhood. When we look our best, we feel our best, right?
Tim came up with an idea. What if we had our go-to "sweatsuit alternative" in our closet? Something to grab on those days that were spent running to the grocery store, grabbing a fast lunch, going to the Post Office? In other words, not spent living the glamorous red carpet runway lives that we imagine in our heads, but being ordinary everyday people.
We want to be comfortable, right? No more sky-high heels, buttoned-up suits, tight slacks for us. Neither do we want to look like, as my Dad used to say "a sack full of doorknobs". We also want to look presentable, pulled together even, just in case…
My just-in-case always involved running into an old flame, or maybe the boss I'd just interviewed with a few days ago, or how 'bout the least favorite woman from the neighborhood? Each of those scenarios has happened to me…on days when I ran out in something not-ready-for-prime-time. It's probably happened to you too. I don't do it anymore.
Tim Gunn proposed putting together some outfits in easy and comfortable fabrics that are cut to flatter, along with colors that are becoming. I think it's a great idea and have put together a bunch of them, with an update to Tim's idea. Today's denim, with its stretch qualities, is pretty darn comfortable now, preferably with a flat waistband. We're talking pull on and go things, no buttons, no belts, easy peasy. It could be a cozy dress, like the one from Alexa Webb at alexawebb.com,  or pants and a top. Add a few accessories to dress it up and you're out the door looking pulled together and presentable, even though you are oh so comfortable!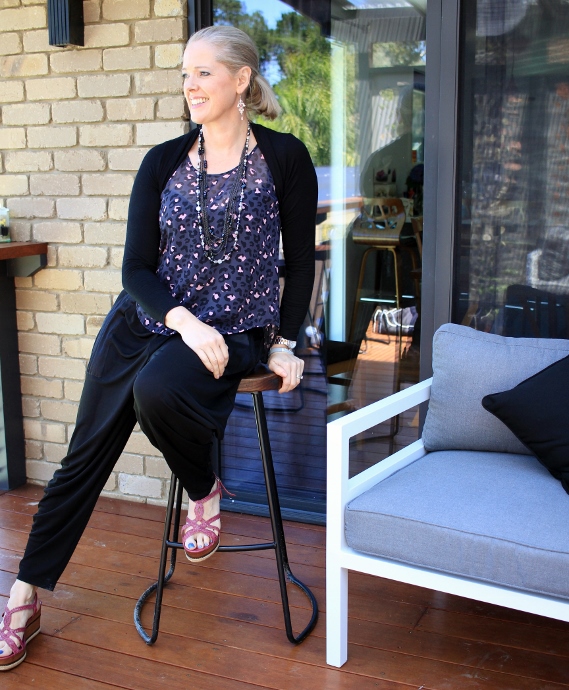 Here's his philosophy verbatim:
"Sweat Suit Alternative – Women wear fewer skirts and dresses these days. But some women have taken casual to the extreme and spend days on end in sweatsuits. It is possible to be casual and comfortable without looking like a slob. Find a comfortable material (that's why this doesn't say jeans again – denim is not as comfortable as nice soft cotton) that you would want to wear every day. It could be khakis, cords, a cotton dress, or much more." Find some more ideas here: https://www.pinterest.com/mhoct6462/widows-and-fashion-for-who-we-are-now/
We'll be talking more about this, but it goes along with "look better and feel better" thinking. It's a whole lot less about impressing anybody else and a whole lot more about lifting our spirits. Comfortable, pulled-together, and easy? Lifting our spirits? What's not to like about that? Why not give it a try?
While you are here, be sure to take a look around the website at the many other blog posts with tips and strategies for all of us on the widowed path. If you enjoy them, be sure to subscribe to receive new posts directly into your email mailbox. It's free to sign up and we guard your information as if it were our own, never selling or sharing your information.
Sign up for free here https://widowlution.com/subscribe/  and never miss a new post. We even send you a free gift when you subscribe!  You can also find inspiration, prayers, and quotes about grief at Pinterest at https://www.pinterest.com/mhoct6462/boards/