Valentine's Day
I'm never sure which holiday is the hardest. Is it Christmas? Our birthdays? Our anniversary? That one doesn't bother me too much for some reason. Valentine's Day can be a very tough one for me. Besides the worldwide lovers day significance everywhere, it's also true that we spent our last shared Valentine's Day in Intensive Care at the hospital. My Pat had his massive cerebral hemorrhage the day before. We knew he wasn't going to make it.
When he hit the Emergency Room, he'd already lost his ability to speak, although he was conscious. This is year six, just a few days after Valentine's. He died three days after Valentine's Day.  For some reason, this one, this Valentine's Day doesn't bother me a lot. It does get easier, over the years. Mind you, I said easier, not easy. This year seems just a little lighter, a little less grim. I think it's because I'm elbow deep in some projects that align with my purpose, which is supporting widows every way I am able. My husband was widowed when I met him. I can't imagine what it was like for him then. I'm certain he believes in the work I'm doing, and in me. He has ways of letting me know. What I can imagine and what I know, is that he is proud of me…still.
As my Valentine's gift to you below is my story,  an excerpt from my first book, The Widow or Widower Next Door, available here https://www.amazon.com/Mary-Lee-Robinson/e/B00OX6LZX8?ref=sr_ntt_srch_lnk_6&qid=1549979323&sr=1-6 from  Amazon. Here's the story of that Valentine's Day, below.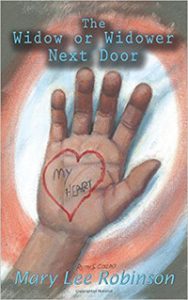 Prologue
Valentines' Day
"On the day before Valentine's Day, my tall handsome 63 yr. old husband walked out the front door, looking happy and healthy, to go play some pool with his buddies and never returned.  He had a massive cerebral hemorrhage.  The guys at the pool hall called me.  That's when the ground opened up beneath my feet. The earthquakes continued for more than 14 months; in fact, I don't know if they are over yet.
While our marriage was hardly trouble-free, what with six aging and medically declining relatives in three states and two deeply troubled stepsons for whom we were the only family, we loved each other very much.  Two years earlier, we retired to the coastal area of our dreams where we were married eight years earlier. We'd both visited many times, separately and together, and fell in love with the Low Country region. One year prior to Pat's death, we'd completed building a home to our specifications, which suited us perfectly. It was designed to have both private spaces for each of us and public spaces to entertain friends. It also sits on a small lake with a beautiful and tranquil view.  In short, we loved it and thought we had it made.
Upon receiving the phone call, later that day, I rushed to the pool hall, but the ambulance had already departed. The guys were great but distraught. With Pat's belongings in hand, I beat all land and speed records to the ER. My husband didn't look good, and I knew it was bad. He was conscious, tried to speak and get up, but couldn't.  He fell back and just squeezed my hand. The neurosurgeon was there in minutes. He had just returned from reading Pat's scans. I'm not sure who looked more grave,  Pat or the doctor.  At my request, he gave it to me straight, no sugar coating.  He told me that Pat would not survive this, let alone recover. The doctor asked if I knew Pat's wishes and if he had an advanced directive. I did.  The doctor volunteered that if it were a member of his own family, he would implement them.  I spent many hours with Pat that night, holding his hand, and then finally went home at the prompting of one of the ICU nurses.
The next morning, having experienced the dying process with other family members, I knew what to do next. I dressed carefully, as if for an important engagement because it was, and put on Pat's favorite fragrance.  It was also Valentine's Day, and our plans to buy a fire pit for the patio and share some wine outback weren't going to work.  I gathered up a red magic marker and a ballpoint pen.
When I arrived at Pat's bedside, I wished him a Happy Valentine's Day and reached for his good hand. He resisted a little bit, but when I told him I wanted to give him his present, he relented and opened his palm. There, with the red marker, I drew a heart, and with the ballpoint, wrote my name inside. I closed his fingers around it and told him, "I love you; you hold my heart in your hand."  The nurses and staff were watching from the station and were puzzled.  One of the nurses later told me that when each of them went in to treat him and examine his hand, he didn't want to open his fingers. All the staff promised not to wash his hand. When he died five days later, it was still there. The mortician left it in place too. Pat still holds my heart in his hand, and my heart is warm because of it. Then the earthquakes continued…."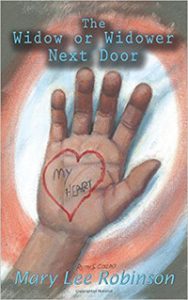 So what is my hope and my Valentine's wish for you this year? It's that you hold on, ride the day out however you chose to do that. Whether you chose to spend time with friends, curl up with a good book (all of mine are available on this site under Healing Reads), tea and a fire in the fireplace, or bury yourself under the covers, know that it's just a day. Things will get better. The day after Valentine's will be better, and each year gets a little easier. Hold tight, my loves…It will be over soon.
While you are here, be sure to take a look around the website at the many other blog posts with tips and strategies for all of us on the widowed path. If you enjoy them, be sure to subscribe to receive new posts directly into your email mailbox. It's free to sign up and we guard your information as if it were our own, never selling or sharing your information.
Sign up for free here https://widowlution.com/subscribe/  and never miss a new post. We even send you a free gift when you subscribe!  You can also find inspiration, prayers, and quotes about grief at Pinterest at https://www.pinterest.com/mhoct6462/boards/